Welcome to Raglan Gym
Raglan Gym first opened its doors in November 2009 under the management of Amber Beaumont and is situated at 32 Bow Street in the heart of the world-famous surfing destination of Raglan, New Zealand.
Raglan Gym has an extensive range of exercise equipment and fitness options providing a invaluable resource to the town, for residents and holiday makers alike. A range of membership packages have been designed to suit any requirement.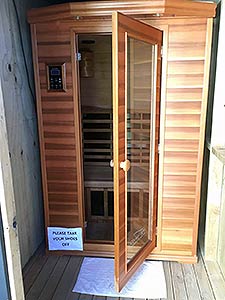 INFRARED SAUNA – FREE to all gym members
Weight Loss & Increased Metabolism
Muscle Pain Relief. Muscle Pain Relief
Immune System Boost. Immune System Boost
Detoxification
Improves Appearance of Cellulite
Ease Joint Pain and Stiffness
Stress and Fatigue Reduction
Improves Skin
Upon joining, each member receives a free personal exercise programme designed around individual goals along with an induction in order to show how to use the weights and cardio equipment safely. At Raglan Gym we are very big on taking stepping stones so that members build fitness & strength slowly and therefore safely so as not to aggravate any past injuries. Our goal is to help you feel comfortable & confident in the gym that's why we take the time to show you the correct technique.
Gym members are also entitled to a free assessments every 8 weeks – an awesome way of seeing what going on in terms of body fat lost and muscle gained. We use a specially designed body fat test which allows us to show how may kgs of muscle and how many kgs of fat are on the body with aim of this is simply to empower members to achieve their personal goals in the best way.
Be it losing a couple of kgs, cycling the Karioi Classic or running the Raglan Karioi Trail, we'll help you succeed.
Members can access the gym 7 days a week from 4am until 11pm via electronic key tag with a qualified instructor present at designated times.
We also run a range of classes every week including SPIN, HATHA YOGA, POWER YOGA and BEGINNERS YOGA. These are all really great for the body; from developing strength in the deep core muscles, to stretching, relaxation and centring ones self, to burning calories and body fat. Personal Training is also available and we have some great personal trainers on board.
For all enquiries please view our contact details and a quick enquiry form on our contact page.